EXPRESS MASSAGE TREATMENT
Posted by

Date

September 20, 2022

Comments

0 comment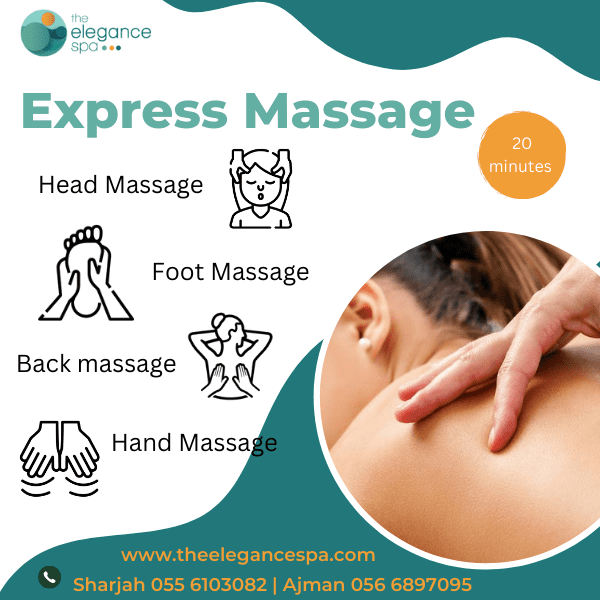 Express Massage Treatments at "The Elegance Spa"
Everyone is very busy these days. Most of us don't even have enough time to have a decent Spa Day. We at Elegance Spa know this difficulty of yours and that's why we have a menu of 20 minutes Express Massage Treatments for people who don't have enough time to take good care of themselves.
Let's check out our Express Treatment Menu
Foot Massage
One of the oldest of massage techniques, Foot Massages have been around for many centuries over many cultures. A Foot Massage can help relax the whole body, helping you to sleep better and leaving you healed and rejuvenated with energy. The idea is to target pressure points within the foot to relieve tension. Normally a Foot Massage improves circulation, stimulates muscles, reduces tension and eases pain. In just 20 minutes you feel completely rejuvenated and healthy after this express massage treatment.
Indian Head Massage
This one's a pure Ayurveda Massage Treatment from India. Indian Head Massage aims at releasing the accumulated stress in the tissues, muscles and joints of your head, neck and back. This holistic treatment uses various acupressure techniques on our chakras to relieve stress, tension and fatigue. You'll feel a transcending experience for 20 minutes that has multilateral benefits on your body and mind while getting this massage.
Neck and Back Massage
This one is a classic – the Neck and Back Massage. It is one the easiest massage therapy offered at The Elegance. This invigorating massage relieves stress and improves posture by loosening stiff muscles in the upper and lower back of body. Starting with light slow strokes on the neck, the therapist works their way to your lower back while you lay facing downwards. Once again, this 20 minutes Express Treatment gives you an instant relief from neck and lower back pains that have been troubling you for a long time.
Hand and Arm Massage
The last of our Express Massage Treatment, Hand and Arm Massage offers quick relief to pain syndromes including arthritis, carpal tunnel syndrome, fibromyalgia etc. Even though you can do it yourself, it is recommended to get a Hand and Arm Massage with a trained therapist to get maximum benefits. Once again with this 20 minutes treatment, you can feel wonders on your body, so much benefits in so little time.
If you are interested in getting any of the Express Treatments at The Elegance, feel free to book your appointment by clicking here. Also find the full range of luxuriously soothing massages and spa treatments at Elegance Spa, in Coral Beach Resort, Sharjah.